Workshops
An uncommon approach with concrete results.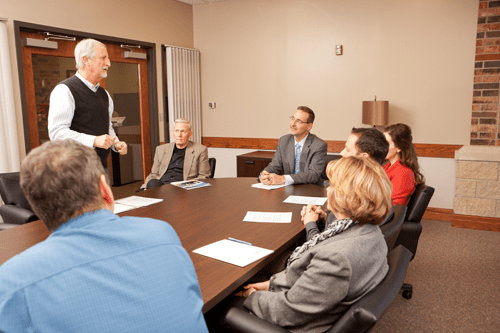 Interactive
In our speaker training workshops, participants are on their feet. Activities and practice sessions are integrated throughout the program to ensure you are learning by doing – and never bored! Wear comfortable shoes and expect to have some fun.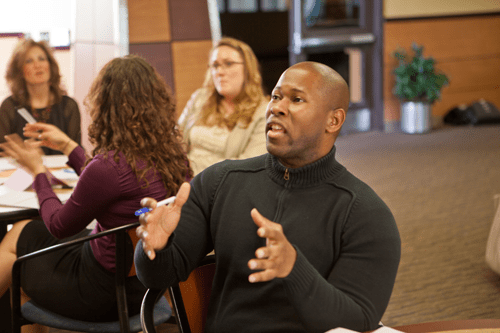 Actionable
Actionable takeaways are central to our training. Communication and speaker skills are taught through simple tips and easily learned techniques that you can confidently implement in your next presentation.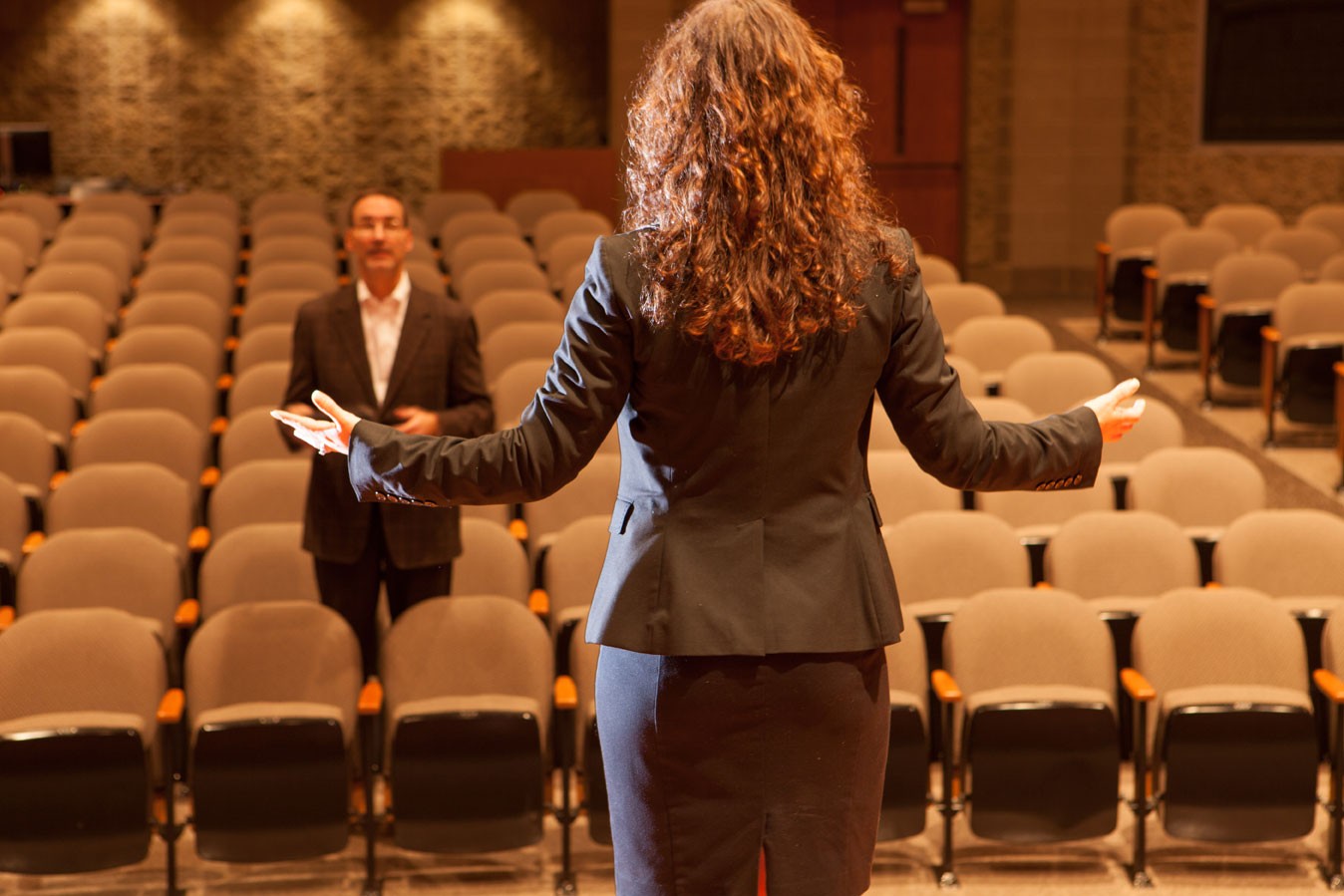 Personalized
To improve as a communicator, you need feedback that's personal. During our speaker training workshops, we coach individuals based on their unique problem areas. As a result, you will walk away with reproducible skills and immediate results.
"Excellent, innovative, interactive, and well worth the time. I am more confident with presentations after this workshop."

Strategically engage your audience
We take an advanced approach to audience engagement.
It is impossible to deliver your message to a distracted audience. That's why our speaker training workshops focus on five essential audience-engagement approaches: Delivery, Interactvity, Messenger, Messaging, and Visuals. Each approach includes practical strategies, tactics, and tips that will transform how you communicate.
Training Takeaways
Establish immediate rapport with your audience
Keep your listeners engaged
Increase audience retention through visuals
Use vocal energy and body language
Master your Q&A sessions
Be a persuasive listener
Develop an audience-centered message
Learn to use storytelling with all types of content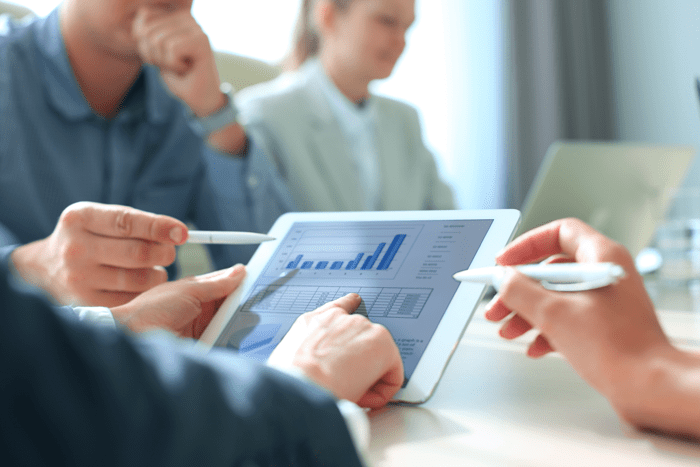 Telling the Story of Your Data
It can be difficult to avoid overloading your audience with too much technical information. Often referred to as "data-dumping," this is a common hurdle when presenting medical or scientific information. To overcome this obstacle, we don't make you change your content or leave out key research. Instead, we train physicians and pharmaceutical professionals to engage their audience as they tell the story of their data through key messages.
Speaker Training Workshops
Our training is about you. Whether you need one-on-one coaching or a large program with breakout sessions, we work with you to create the best strategy for your training needs.
Presentation Skills
Grab your audience's interest from your first sentence
Maintain interest through storytelling techniques
Project poise, confidence, and credibility through exceptional delivery skills
Manage PowerPoint content and other multimedia aids to drive home your message
Incorporate insights from research and experience in emotional intelligence
Communicate customized, clear, concise, compelling, audience-centered messages
Facilitation Skills
Increase message retention through interaction strategies and listening techniques
Encourage equal participation by asking the right questions
Use conversational prompts to gather important information
Assess and define your audience's understanding, expectations, and interests
Effectively redirect conversations to stay on track
Keep your composure during difficult Q&A sessions
Delivering Medical Content
Understand the core slides of your educational deck
Identify key messages and main points
Articulate slide content using the Content Management Process
Communicate key messages through storytelling techniques
Avoid "data dumping" while conveying scientific information
Telling the Story of the Data
Use storytelling techniques to deliver your message
Engage your audience through a simple four-step strategy
Make your message clear, concise, and memorable
Use visuals to reinforce your key points
Motivate your audience to listen
Presenting 1-on-1 or by Phone
Influence others through key communication strategies
Construct positive and productive interactions
Perfect interpersonal skills such as listening, questioning, and constructive feedback
Effectively negotiate with win/win results
Purposefully incorporate the art of persuasion
Appreciate the value of constructive conflict
For Business Leaders
Establish executive presence through body language
Encourage engagement through eye contact
Create interaction with virtual audiences
Incorporate storytelling essentials
Use visuals to double audience retention
Focus on Audience Needs
Maximize presentation results with 25 key actions
Master your ability to communicate content, present data, and manage interaction
Engage your audience, add value, and create practical interactions
Incorporate emotional intelligence, personality type, and learning style
Assess your strengths and develop your personal growth plan
Incorporate every aspect of communication into your meeting or talk
Train the Trainer Program
Establish meeting tone, objectives, and ground rules
Keep meeting on time and on topic
Encourage interaction through active listening and strategic questioning
Foster positive feedback
Maintain focus, control, and meeting momentum
Handle difficult people and situations
Positive Assertiveness
Identify the barriers to being assertive
Understand different behavioral and communication styles
Listen more effectively and productively
Gain personalized, applicable insight about your communication style
Clearly communicate your goals and desires
Define priorities for effective change
Leadership Skills
Develop a leadership style that is natural, confident, and respected
Make productive, confident decisions under pressure
Identify and target your strengths and weaknesses
Inspire respect and loyalty
Maximize team performance through relationship building
Presenting at a Tradeshow
Improve interpersonal connections through active listening techniques
Use eye contact to build rapport and impart trust
Implement simple questioning tactics to ensure your message is received and understood
Navigate difficult conversations through emotional intelligence strategies
Message Development
Identify the key messages and core slides of your presentation
Effectively articulate the content of each slide
Conversationally deliver your message through storytelling and interaction techniques
Increase message retention using slide structure
Add creative tone to your presentation style
Give your presentation a highly memorable closing
Developing Slide Decks
Increase audience comprehension and engagement
Effectively present complex slides and predetermined decks
Simplify slides to prevent distraction and reinforce key points
Produce professional quality slides through designer tips and best practices
Improve the effectiveness of your PowerPoint
Deliver a successful, memorable presentation
Specialized  1-on-1 Coaching
Rapport Building
Message Management
Delivery Best Practices
Nonverbal Essentials
Coaching Tailored to Your Needs
Growth Plan Assessment and Development
Presentation Preparation
Message Management and Delivery
Interpersonal Interaction Strategies
Effective Listening Techniques
Consulting Tailored to Your Needs
Meeting Moderation
Message Development
PowerPoint Design
Leadership Strategies
Interpersonal Interactions
"The best ever! There was never a dull moment and the learning was constant. I stayed engaged all day and gained so much valuable information."
Workshop Comparison
Our workshops teach an integrated strategy to audience engagement through five approaches: Delivery, Interactvity, Messenger, Messaging, and Visuals. The chart below shows the audience engagement approach addressed in each workshop.
| | Delivery | Message | Visuals | Interactivity | Messenger |
| --- | --- | --- | --- | --- | --- |
| Presentation Skills | | | | | |
| Facilitation Skills | | | | | |
| Delivering Medical Content | | | | | |
| Telling the Story of the Data | | | | | |
| Presenting 1-on-1 or Phone | | | | | |
| For Business Leaders | | | | | |
| Focus on Audience Needs | | | | | |
| Train the Trainer Program | | | | | |
| Positive Assertiveness | | | | | |
| Leadership Skills | | | | | |
| Presenting at a Trade Show | | | | | |
| Message Development | | | | | |
| Developing Slide Decks | | | | | |
| Specialized 1-on-1 Coaching | | | | | |
| Tailored to Your Needs | | | | | |
| Consulting Tailored to Your Needs | | | | | |